August 22, 2023
How Amazing Replaceable Disposable Pod ELFWORLD Reload 6000 Vape
ELFWORLD Reload 6000 Disposable Vape Kit is a convenient and easy-to-use vaping solution that brings you a satisfying experience like no other. Every puff is a delight to the senses, offering a smooth and flavorful vaping session.
This innovative vape kit combines a replaceable pod with a rechargeable base, giving you the best of both worlds. The plastic pod effortlessly magnetically connects to the metallic base, ensuring a secure and reliable fit.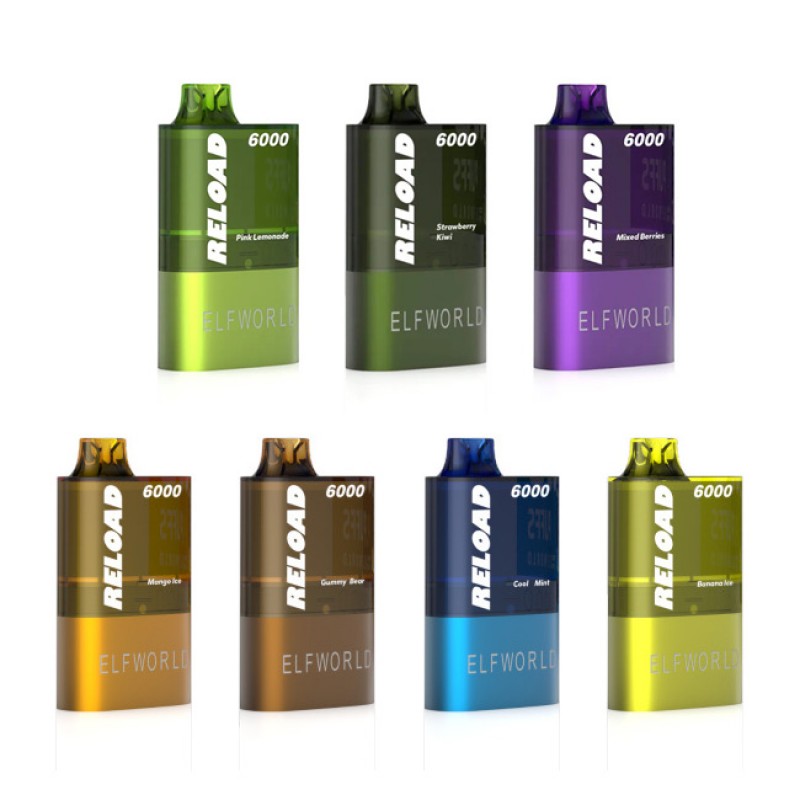 In the upper pod section, each pod boasts a generous 12ML E-liquid capacity and contains 5% Nicotine Salt for satisfying nicotine hit. With its 1.2-ohm Mesh coil, the ELFWORLD Reload 6000 delivers consistent taste, impressive cloud production, and exceptional longevity. What's more, this kit comes complete with 10 different high-end E-liquid flavors, allowing you to explore a range of tastes and find your favorites.
The lower part of this vape mainly contains the integrated 650mAh battery. The large capacity battery allows you to enjoy an impressive puff volume of up to 6000 puffs. And when it's time to recharge, the type-C charging port ensures a quick and efficient power-up. This all-in-one kit provides everything you need for an exceptional vaping experience.
What sets the ELFWORLD Reload 6000 Disposable Vape Kit apart is not just its outstanding performance, but also its affordability. With a low price point, fast shipping, and dedicated customer service, our good online vape shop is committed to delivering a top-notch product that doesn't break the bank.